Check out today's Memorial Day pic and take the quiz on
Bing
1) "We here highly resolve that these dead shall not have died in vain." Whose words are engraved above this amphitheater stage?
2) Among the honored buried here are two U.S. Presidents, the Unknown Soldiers,
and the crew of the Challenger Space Shuttle. Where are we?
3) "Walk through these arches and you'll have entered... the center of our "nation's most sacred shrine"
4) Three major services take place here annually, two of which are Veteran's Day and Easter. Which is today's service?



Military Museums in the U.S.
United States Military Museums in the Best of the Web Directory - Explore hand picked resources on United States Military Museums at Best of the Web. BOTW opens the book from a library of internet knowledge. Whether you're looking ...
United States Army Aviation Museum -
The United States Army Aviation Museum, located at the Home of Army Aviation, Fort Rucker, Alabama, maintains a collection of over 160 military aircraft, including ...
National D-Day Museum Today is Memorial Day, a day The National WWII Museum takes time to remember the 400,000 men and women who have laid down their lives for our freedom. Take a moment today to visit mymemorialday.org to see just a few of their stories
New Orleans museum provides information on educational resources, exhibits, events, membership, and kid's activities.
National Museum of American Jewish Military History - Take a virtual tour of NMAJMH. The National Museum of American Jewish Military History, under the auspices of the Jewish War Veterans of the USA, documents and preserves the contributions of Jewish Americans to the peace and freedom of the United States, educates the public concerning the courage, heroism and sacrifices made by Jewish Americans who served in the armed forces, and works to combat anti-Semitism.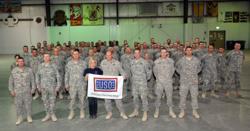 Kellie Pickler Joins USO in Honoring Our Nation's Real Heroes on Week-Long Memorial Day Tour to Middle East
Autism Votes

-

May 24 at 5:31pm
Military Family Autism News: May 23 Update:
Autism Speaks Issues FAQs on 'Larson Amendment'
Rep. Larson Celebrates House Vote with Connecticut Military Families
HARTFORD, CT -- Rep. John Larson of Connecticut joined with local military families to celebrate and raise awareness of last week's vote in the U.S. House of Representatives on a measure that would end insurance discrimination against Department of Defense military families caring for dependents with autism. Approved as an amendment to the National Defense Authorization Act, the measure moves next to the Senate.

Larson spoke of how he weas introduced to the issue by Rachel (right) and Sergeant Major William Kenyon, a Connecticut National Guard family from Manchester.

Autism Speaks Salutes House Vote to End Insurance Discrimination Against Military Families Raising Kids with Autism

NEW YORK (May 17, 2012)
Autism Speaks Salutes Advocate Jeremy Hilton on Winning 2012 Military Spouse of the Year NEW YORK, NY (May 11, 2012)
A Marine Blogs: 'My Son Has Autism'
CAMP LEJEUNE, NC (May 9, 2012)
San Diego Padres Honor Military Spouses
'Military Parents With Special Needs Kids: Who Makes The Real Sacrifice?' DALLAS/FORTH WORTH (April 13, 2012)

Autism Speaks Honors Military Families Aboard U.S.S. Intrepid Museum

Air Force Times: 'Pilot program for autism treatment extended'

WASHINGTON, DC (March 13, 2012) -- Air Force Times reported today that the Pentagon has announced it will extend the TRICARE Enhanced Access to Autism Services demonstration program through March 2014.


Resolution Urging Congress to Enact CMKAA Introduced in New Jersey Legislature

TRENTON, NJ (February 23, 2012) -- A resolution urging Congress to enact the Caring for Military Kids with Autism Act (HR.2288) has been introduced in the New Jersey Legislature.


NBC's Andrea Mitchell Examines Plight of Military Families Raising Kids with Autism
WASHINGTON, DC (February 3, 2012)
Military Families Tell Their Stories to Congress
WASHINGTON, DC (January 31, 2012)
NCD Urges 'Prompt Action' to Improve Access to Disability Services for Marine Corps Families (WASHINGTON,DC Nov. 28, 2011)
President Obama Signs CARA Into Law
- Combating Autism Reauthorization Act (
WASHINGTON, D.C. September 30, 2011 –
Autism Speaks Co-founders Suzanne and Bob Wright today joined President Obama at a White House ceremony where the President signed crucial legislation renewing the landmark Combating Autism Act for another three years.
Helpful Links: