'Summer Slide': Identify and Prevent Summer Learning Loss is our latest series.
A
This week, chck out A SPELLING city & What TIME is it?
Are you looking for an online vocabulary and spelling program that makes learning fun?
VocabularySpellingCity
is an educational website that allows teachers and parents to register for free accounts where they can enter and save word lists. These lists can then be used by their students to play a variety of interactive learning games, including HangMouse (hangman), Unscramble, Word Search, and Premium Crossword. They can even take Spelling Tests directly on our site. A Premium Membership is also available that features additional benefits like automated student recordkeeping and access to our Premium games and vocabulary content.
VocabularySpellingCity.com wants to make our spelling website an invaluable part of every child's spelling and vocabulary education. To help us keep improving our vocabulary & spelling games:
Link to VocabularySpellingCity from your school website, homeschool blog, or list of online learning resources.
Tell your colleagues and friends, write a review for a teachers group, or forward our newsletter.
Participate in the VocabularySpellingCity forum. Share lists that you've posted, discuss your experiences on using the site, and make suggestions for new features or spelling games.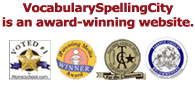 VocabularySpellingCity.com shares technology with a
vocabulary
website. VocabularySpellingCity is grateful to Time4Learning.com (
homeschooling curriculum
,
afterschool online study
) and Time4Writing.com (
teaching writing
) for their support. VocabularySpellingCity recommends the following
keyboarding games
.
Spelling & Vocabulary Website: SpellingCity
Do you need a quality online education for PreK to 12th grade students that leverages the power of technology and the Internet?Time4Learning.com was founded in 2003 to improve education among today's computer-loving students. Time4Learning provides online preschool lessons, online elementary curriculum, and online middle school curriculum for reading, writing and arithmetic as well as social studies and sciences. In 2008, Time4Learning created Time4Writing.com, a series of eight-week online writing classes taught and facilitated by experienced writing teachers for elementary, middle and high school students.

Are you a Time4Learning member who has friends that might like Time4Learning? Then please refer them. (We'll thank you with $25) For details: http://tinyurl.com/T4L-FriendRefer




Do you want one-on-one writing where students get a personal certified teacher; and students work through the interactive lessons and writing assignments at their own pace?



Time4Writing courses are offered at the beginner, intermediate, and advanced levels for elementary through high school. Courses start daily and are designed to help students build writing skills through one-on-one interaction with an online writing tutor who is a certified teacher

"My daughter finally understands how to write proper sentences and paragraphs. This breakthrough was thanks to Time4Writing."

"My son's favorite part of the class was the personal feedback. He LOVED having someone besides Mom give him input on his work."

"My son was very intimidated by the essay portion of his standardized test. After taking a Time4Writing course, he was able to strengthen his essay writing skills and gain confidence, earning him a higher score!"


Time4Writing was created by Time4Learning Inc, an automated online education program used as a home school curriculum, a summer study program, and for afterschool support or enrichment
Students Benefiting from Time4Writing
A
middle school student intimidated by the upcoming standardized test that included essay writing
An ESL student who needed to improve his English writing skills
A gifted high school sophomore who wanted more writing practice and feedback to build his writing skills
A fourth grade homeschool student who liked writing, but had become over-sensitive to feedback from her parents about her writing
Learn More
We do not benefit from blogging about these resources. Referencing these educational products is not an endorsement of these products. We are not resposible for outcomes, results or any agreements made by these academic services.