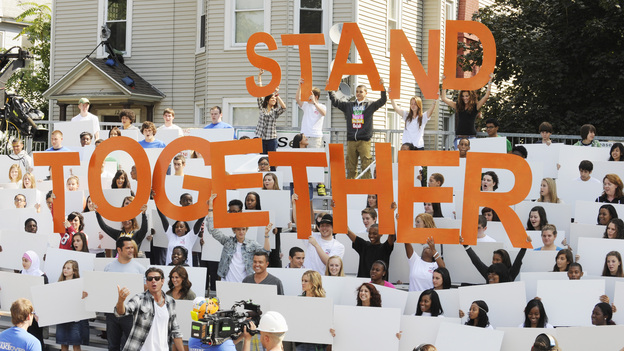 Ty and the team travel to Springfield, Massachusetts to surprise the Walker family--mom Sirdeaner, her daughters Dominique and Gloria and her son Charles. Aunt Barbara is also part of the family, as is grandmother Dorkas Ineta Walker. But one very special person is no longer there.
On April 6, 2009, 11-year-old Carl Walker took his own life after being relentlessly bullied at school. Carl's family has focused their energies on helping others. They have turned this tragic event into something positive by lobbying for new state and federal laws against bullying.
The 3rd floor of the Walker home is where Carl took his own life. As a result, the family cannot bear the sadness of being on that floor. They need a new home that would meet their current needs yet also honor Carl in a positive way. Know anyone who can help?
It Gets Better!
| Clip 1:47

Stand Together To End Bullying!
| Clip 2:44
Watch Full Episodes for Free Online - Extreme Makeover: Home Edition - ABC.com
 *Lauren Kisly, 22, of Lakemoor, talks with her mom about the recent suicide of her brother, Eric, 23, while at their home recently. Eric struggled with Asperger syndrome and committed suicide by jumping in front of a Metra train June 16, **(Sarah Nader – snader@shawmedia.com)* *In a typed suicide note left for his loved ones, Kisly described the difficulties he had finding a job.* *"I hate to say this but by the time you are reading this, I will probably be dead," Kisly wrote. "I am doing this because I realize that I can't fix my life given whats [sic] left within me."* *The g...
more »